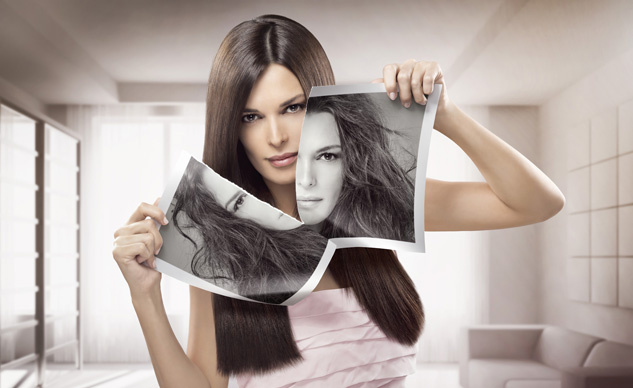 What is it?
It is a revolutionary process that softens, shines, smoothens and makes the hair healthy. It penetrates the hair repairing internal damage and coats the hair preventing further damage. The results are smooth, silky and straighter hair that looks beautiful and healthy. It is not a chemical that restructures the hair. It is a replenishing treatment that reconditions and protects the hair from water and heat damage while enhancing its natural shine.
The Keratin hair treatment is excellent on all types of chemically treated hair (bleached, highlighted, colored, permed, relaxed or previously straightened. It is excellent for getting rid of curly, frizzy, damaged, unhealthy, dull, mistreated hair.
The Keratin treatment is made up of "Keratin" a liquid form of hair. There are no harsh chemicals. This treatment can be used on children (6 years and older), teens and adults (men and women).
The Keratin treatment DOES NOT use strong chemicals to open and close the hair cuticle in an effort to straighten it. It only coats the hair. It does not break the bonds of the hair shaft like straighteners do. Keratin is a natural substance which comprises approximately 88% of your hair.
This treatment is not permanent. It naturally fades out of the hair. The wave or curl will gradually come back in about 4- 6 months. The hair will stay soft, shiny and healthy looking. The more you do the treatment the better condition the hair becomes. The treatment also makes the hair very manageable. It will require less blow drying time and not flat iron.
What is Keratin Straightening Treatment?
Keratin is a protein found naturally in our hair. With our current lifestyles, hair tends to get more dry and loses natural keratin, because of pollution, heat, styling, coloring etc.
To explain in a simple way, a keratin hair treatment infuses the vital element keratin back in to each strand of the hair. This helps to fill in the gaps in the hair cuticles, and once Keratin is infused in to the hair – hair becomes healthier, straighter and much easier to style . Keratin treatment eliminates the frizz factor from hair. Keratin treatment protects hair from damaging UV rays and humidity.
How long does the Keratin based treatment last?
Keratin based treatment usually lasts for a period of 4-6 months depending on the post care taken by the client. Usually on having hair keratin treatment the hairdresser in charge prescribes sodium sulphate free shampoo and conditioner and hair mask.
Can anyone undergo Keratin Treatment?
Keratin treatment is a restorative treatment, it strengthens hair shaft and can be taken by anyone. Only people with inflammatory scalp conditions like psoriasis or seborrheic dermatitis should consult their dermatologist before undergoing a Keratin Treatment.
Can I do keratin treatment on Permanent straightened/chemically treated or relaxed hair ?
Yes it can be done on permanent straightened/ chemically treated and relaxed hair
Is Keratin treatment a relaxer?
No it is a treatment based on Keratin and naturally relaxes your hair
Can I do coloring before or after Keratin?
When a client wants a hair color, for best results we usually recommend hair color prior to Keratin treatment. Hair can be colored 2 weeks after the treatment
Should I cut my hair before the treatment?
We recommend a haircut after the treatment
What is the difference between permanent straightening and Keratin?
Relaxers and permanent straightening work on breaking and rearranging the internal bonds of the hair. Once this process is done hair is permanently straightened. It looks amazing at the start, but as the hair begins to grow the new growth is curly, and the hair looks awful, as the previously straightened hair is straight while the growth is curly. Keratin treatment straightens hair naturally, and does not break hair bonds. So your hair tends to look normal even with regrowth. Repeated process at duration of 4-6 months would only make your hair more healthy and shiny and smooth.